DevOps
with AWS
Infrastructure tools and resources for development operations professionals.
We develop cloud-native applications and solutions tailored to the specific needs of our clients.
Our team of developers is highly specialized in modernizing monolithic applications through the implementation of serverless microservices. This architecture provides greater agility, scalability, and flexibility to applications.

Additionally, we offer training and collaboration services for our clients' IT teams, whether through training programs or by working together on projects. We ensure that our clients adopt best practices in continuous integration and continuous delivery (CI/CD), ensuring efficient application development and deployment lifecycle management.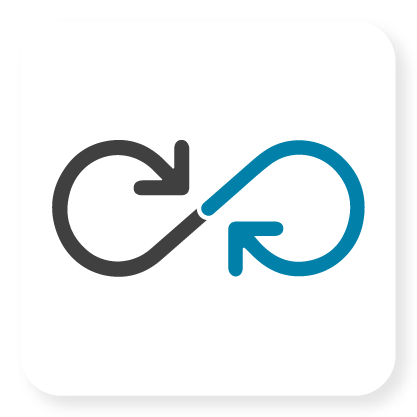 Roles of our Team in DevOps
At InBest Cloud, we have a multidisciplinary team that plays various key roles in the context of DevOps:
Developer
Tester
Site Reliability Engineering (SRE)
Operations
Security and Networks
Database Administrator (DBA)
Data Scientist
ENBest.metrics is a monitoring platform designed to assist cloud users in adhering to the best practices outlined by AWS across each pillar of the Well Architected Framework.

Through this platform, users can attain comprehensive and detailed control over their cloud architecture and the services they possess, resulting in optimization of costs, performance, and security.

The standout feature of iNBest .metrics is its versatility; it's a fully customizable platform that seamlessly adapts to user needs and demands. It also includes an alert system that enhances the user experience and amplifies their control over their architecture.
Obok is a Software as a Service that enables secure data replication from any source, utilizing encryption and compression methods.
It ensures high availability of information by replicating data across different nodes located in various geographic zones hosted on different clouds. This prevents loss of sensitive and highly important information for companies and businesses.
No more guesswork, no more budgets in the dark.
Gain a true understanding of how much technology is costing your company every hour of every day.
Control costs, prevent security breaches, and meet regulatory requirements with governance as code.
Connect securely to your cloud and SaaS solutions.

We analyze and comprehend how you're using technology and help you achieve the best outcomes.
Our focus on the DevOps culture, supported by a diverse and specialized team, enables us to provide high-quality solutions and services to drive our clients' digital transformation.